Welcome to Ste-Valentine Farm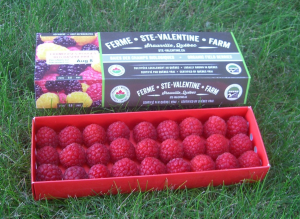 We grow various berries: raspberries—red, black, and yellow  blueberries—of all different tastes, colors, and sizes; and black currant for its unique taste and vitamins.
All berries are field-grown heirloom and are CERTIFIED ORGANIC.
All berries are harvested at peak ripeness as indicated by aroma and taste, which attracts a lot of animals and birds. We stamp berry boxes with the date on which the harvest was picked. We are local (Ottawa Valley), so you can enjoy the sensual and health benefits of the berries within 1–2 days after they have been picked.
Berries are kept at near-freezing temperatures away from the field until you purchase them, and are protected from light to retain firmness, taste, and vitamins. No waxing is used to extend the natural life of the berries.
Production and distribution is labor-intensive, but we are able to bring prices down so that you can enjoy the best of nature's candies.
The unparalleled nutritional value of our berries is good for expectant mothers and growing children. It also helps to enhance women's natural beauty and invigorate the lives of older people.
If you are interested in heirloom eating, please visit our site www.ste-valentine.ca